Hire Anadel to speak
Anadel's personality, speaking style and captivating energy, allows her to connect with a wide range of audiences. Her time on stage transports the audience through a rollercoaster of emotions, from lifting their energy though dancing and laughing, to calming down and attentively listening to Anadel's message.
Below are five of Anadel's most popular programs but by no means all of them. For any specific questions about Anadel's keynotes, topics, or workshops reach out to here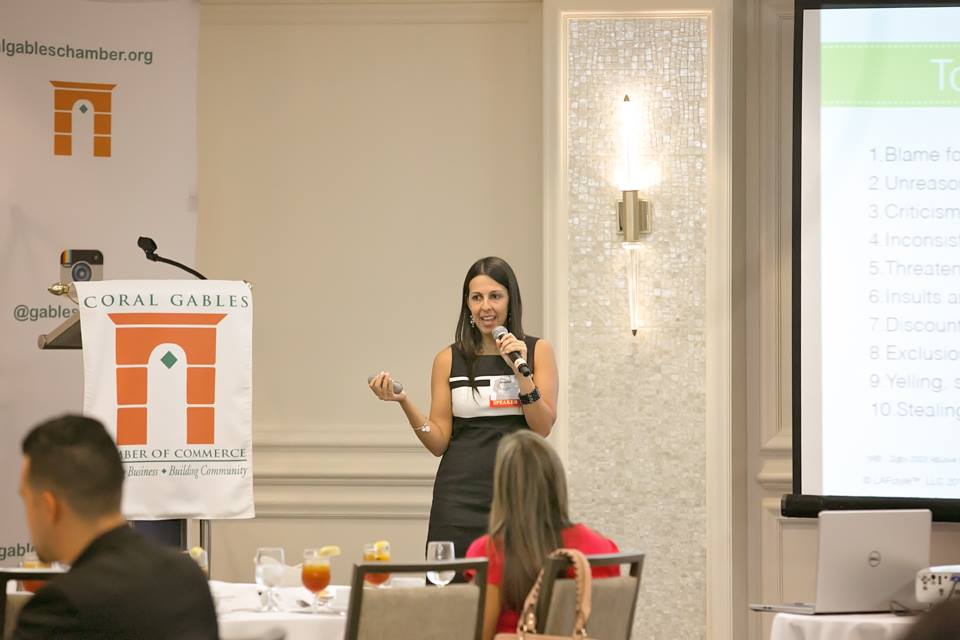 LAFstyle™ Living: Importance of loving, accepting and forgiving yourself and others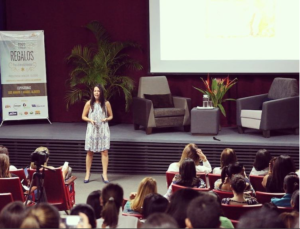 Anadel had always been a happy, compassionate, over achiever who found it hard to say No and who always strived to do the best for others. For years she studied hard, worked multiple jobs, and dedicated her life to pleasing others forgetting about herself. While in college she held two jobs, and decided to pursuit two double majors and a minor. She was part of the school newspaper, babysat on the weekends and became a Resident Advisor to help her parents with room and board payments. It was during those years that she kind of lost herself going through periods of bulimia, low-self esteem and unhealthy relationships. Through her story of recovery, she gives the audience multiple examples of love, acceptance and forgiveness for oneself and for others. Although many haven't gone through the same  struggles as she had, Anadel makes it relatable to a wider audience reminding them the importance of LAFing (loving, accepting, and forgiving themselves and others).
Learning Outcomes: Through one's happiness journey, we must learn to LAF; the hill goes up and down, we might as well enjoy the view for a longer period of time; reinforcement that this too shall pass.
Ideal Audiences: College students, Wellness Development, Empowerment Conferences, High School Students.
Format: Keynote
From Target to Game Changer: Overcoming corporate bullying and life's hardships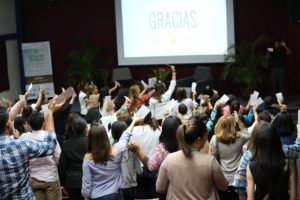 With over 9 years of experience in the holistic industry, and after 5 years of being bullied at the workplace, Anadel inspires, motivates and guides people around the world helping them break free from toxic situations and thoughts. Her years in the corporate world weren't necessarily the best years of her life, but they definitely let her to discover what her true mission in life was. She lived her pain in silence for 5 years, was treated poorly at her job, was called out and disrespected multiple times in front of others and was under appreciated for her work and extra hours that she dedicated to her job. She lost herself in the process. The audience will be introduced to an inspiring story of adversity and overcoming it successfully. They will learn the importance of speaking out, and most importantly of reaching out. They will be challenged to ask themselves in which side of the spectrum they are (targets or bullies), and they will be asked to take action in changing their situation for the better.
Learning Outcomes: Audience will be introduced to an inspiring story of overcoming corporate bullying and life's hardships; learn practical tools to overcome these situations and discover who they truly are at their workplace and in their personal lives.
Ideal Audiences: Millennials, Corporate employees , Empowerment Conferences, Leadership Conferences, Chamber and Networking Gatherings.
Format: Keynote
The Art of Mindfulness and its Benefits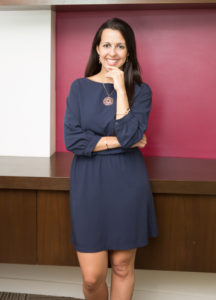 We live in a fast paced world, where most of the people crave instant gratification, demand complete attention, and believe that living through the lives and "likes" of others their pursuit of happiness will finally come true. Because we are in this digital and fast-paced world, Anadel has decided to help people stop and actually enjoy the time that they're in. Through meditation, some yoga techniques, and simply being MINDFUL, she helps people discover the benefits of being PRESENT. The audience is captivated by the simple fact of being able to BREATHE. Through exercises and self-awareness movements, they will realize that actually LIVING in the moment is the first step to finding true happiness.
Learning Outcomes: Mindfulness is key to living a fulfilled life; the time is NOW; who are you at this present moment.
Ideal Audiences: Wellness Development; Millennials; High School Students.
Format: Keynote / Workshop / Class
What It Takes To Inspire An Audience Through Your Lifestyle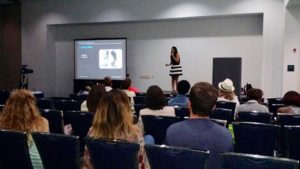 In 2015 Anadel was faced with the decision of finding another corporate job or venturing out in the entrepreneurial world. She hesitated for some time, she wasn't sure if she was good enough, strong enough, capable enough to pursuit her mission, which she hadn't discovered yet. Her rollercoaster ride of happiness, struggles, a verbally abusive relationship, corporate bullying, among other situations in her life and being happy again, inspired her to simply GO FOR IT. During her talk, Anadel challenges the audience to look within themselves, digging deep into their limiting beliefs, and helping them bring their inner spark out to shine through their own personal stories. Anadel believes that by living an authentic life, you can inspire others. In this workshop, Anadel creates a space where inspiration thrives and people learn how their lifestyle can inspire readers to connect and commit to their ideal brand's messaging.
Learning Outcomes: Inspire through your life story, connect to your audience by being authentic.
Ideal Audiences: Entrepreneurs, Empowerment Conferences, Leadership Conferences, Mindful Groups, Motivational events, Small gatherings.
Format: Keynote / Workshop
The Hug Starts from Within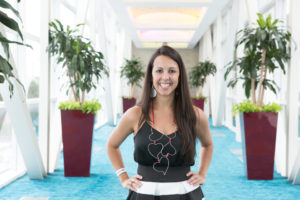 Everything we need to live a happier and healthier life is found within us. When Anadel started loving and accepting herself for who she really is, and after going through years of low self-esteem and lack of self-love, her life shifted for the better. It didn't matter her physical aspect if inside she was devastated and mostly sad and depressed pretending to act happy when she really wasn't, at a moment when she was quietly suffering, and painfully letting time pass by. Anadel takes the audience in a journey from the inside out; learning about emotions and how they affect are outcome in life. Most importantly, the power of self-love and its ripple effect in everything and everyone around people's lives.
Learning Outcomes: Hug yourself and shower yourself with love, so that you can be there and shower others with love and attention.
Ideal Audiences: Empowerment Conferences, High Schools, Wellness Development, Inspirational Summits.
Format: Keynote
ABOUT ANADEL
With over 10 years of experience in the Yoga and holistic industry, Anadel inspires, motivates and guides people around the world helping them break free from toxic situations and thoughts, through customized development programs, workshops and coaching.

Copyright © 2017 LAFstyle, LLC All rights reserved